ALL SAFE AT PULLMAN QUAY GRAND SYDNEY HARBOUR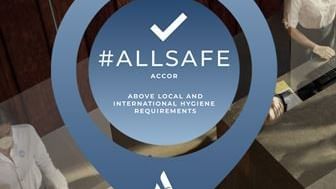 Although the world feels a bit strange right now we know that finding a solitary space while still feeling connected is not always easy. That's why here at Pullman Quay Grand we are taking all COVID-19 safety precautions seriously, so you have somewhere safe to stay while enjoying our impeccable service.
Your health and safety is our absolute priority.
We have introduced elevated hygiene and prevention measures to ensure your safety. The ALLSafe Label certification (by our parent company Accor), developed with and vetted by Bureau Veritas, represents our new cleanliness and prevention standards and provides assurance that these standards have met at Pullman Quay Grand Sydney Harbour.
Welcoming, safeguarding and taking care of others is at the very heart of what we do and who we are at Accor and Pullman Quay Grand Sydney Harbour. We want to take a moment to reassure you that Accor has been prioritising the safety and wellbeing of our guests and team members every day for more than 50 years.
High standards of hygiene and cleanliness are already delivered across all our brands locally and globally. However, due to the Covid-19 pandemic and with a focus on guest care as hotels reopen, we have elevated these even further by launching our own global cleanliness and operational standards, the ALLSAFE Label, which represents some of hospitality's most stringent cleaning standards.
In accordance with the most recent NSW Government regulations, we have had to adapt our operations, services and opening hours in order to be able to reopen our doors safely – and we thank you in advance for your patience.
If you have any questions or would like to speak to a member of our team feel free to call our helpful reservations team on (02) 9256 4000 or H8779@accor.com