5 INSTAGRAM WORTHY SPOTS AROUND SYDNEY YOU SHOULD VISIT!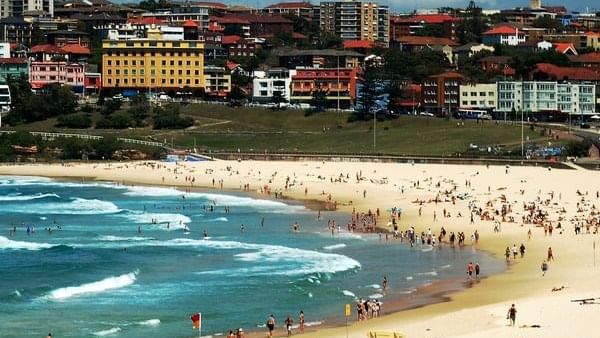 Tired of talking pictures of your own breakfast for Instagram? Lacklustre selfies not bringing in the followers? Try some of our favourite Instagram worthy spots in Sydney for unique and interesting photo opportunities. Oh, and maybe experience some of the very best places to go in Sydney if you have the time between snaps.
1. University of Sydney's Graffiti Tunnel
Picking just one location on the University of Sydney's campus for great pictures is tricky. The Quad known by students as Hogwarts for obvious reasons, the sandstone buildings and the Jacaranda tree are all solid choices, but try the Graffiti Tunnel for something extra special. Visit Sydney University for free admission to the local landmark. The long walkway filled with top-notch artwork lit by artificial, almost industrial, lighting is our choice for one of the top instagrammable spots in Sydney.
2. Bondi Beach
Think of fun things to do in Sydney and Bondi is definitely up there. The original surfer's paradise offers up a whole host of options for photographers including top notch restaurants, smaller beach-side pools and of course the sweeping coast. Try getting a little height for perfect panoramas.
3. The Grounds of Alexandria
One of the most dense Instagram worthy spots in Sydney is The Grounds of Alexandria restaurant. The old warehouse which hosts the new hot spot not only has great food loved by locals but stunning architecture, a permaculture garden and a miniature zoo featuring ponies and parrots. After only opening a few years ago, the brunch specialists have become one of the best culinary-themed fun things to do in Sydney. Try and snag a selfie with celebrity pig Kevin Bacon for a touch of Hollywood glamour.
4. Sydney Opera House
Perhaps top of the list for places to go in Sydney, the Opera House is a rightfully world famous landmark. While many amazing pictures already exist, try getting up close and personal for an intimate shot of the shell tiles which make up the roof or take one of the many ferries around the harbour for a sunset snap. Some Sydney travel classics deserve their reputation.
5. Museum of Contemporary Art
For an ever-changing background of the weird and wonderful, the revamped Museum of Contemporary Art is an unbeatable instagrammable spots in Sydney. Spread across two floors, the building hosts visually striking installations around every corner. For a more familiar flavour of art, the attached pop-up restaurant during Good Food Month regularly serves up dishes which are almost too picturesque to eat. Almost.
Of course, this list is just the tip of iceberg. With natural beauty and a celebrated city landscape, Sydney travel is a visual treat with or without a camera. Visit Sydney to find your own hidden gem to share online.